I think it's a personality thing. Some people can't stay stationary or have a defined style, but I'm interested – to quote the great Morpheus – on seeing how deep the rabbit hole goes.
For someone who spends the better part of his life working on illustrations and graphic novels, Tel Aviv based illustrator, Ovadia Benishu, had surprisingly little exposure to comics and graphic books as a child. His large family is full of lawyers, army officers and government employees, and during his childhood, it was up to him to explore his artistic side. All he knew was that he loved doodling and was drawn to the 'complicated and extreme'. It was then that he turned to television where everything was interesting to investigate and draw. His early inspiration stemmed from animated shows like Batman, Tintin, The Maxx, Ran & Stimpy and Mighty Max.
After he moved from the coffee-smelling streets of his hometown in Beit-Shemesh to the hyperactive city of Tel Aviv, the city's seemingly ordinary life stories provided him with endless inspiration. We talk to Ovadia about how he fell in love with comics, his inspirations through the years, and why things will be alright as long as he keeps drawing, among many other things.
Could you tell us about your growing up years?
I was born in a small town near Jerusalem called Beit-Shemesh, as the fourth child out of five. My mother worked at a government office and my father at a coffee bean factory, which was quite close to our house. As a kid running through the neighborhood, I remember smelling the coffee beans after they would be infused and cooked. It was a gentle smell but something I can still remember clearly.
It's great growing up in a big family, especially when you're almost the youngest. As a kid, I remember looking up to my older siblings and learning different things from each one. My older brother, for example, taught me about music, especially classic rock. My sisters were more independent – one was an army officer and the other very good with politics around the school, and she's a lawyer now (laughs). My youngest sister, who was born last after most of us had grown up, was greatly pampered.
And what were some of the creative influences while you were growing up?
To be honest, my house wasn't that rich in culture. My parents were busy working and would leave everything related to exposure to school, so it was on me to figure things out that weren't in the mainstream culture.
During the early days of my youth, my influences revolved around everything. Growing up, I gravitated towards everything complicated and extreme and as a doodler, I remember being all over the place in terms of the actual content or influences. I didn't own a lot of comics or even books in general, so most of the things I liked came from animated shows like Batman, Tintin (I thought the backgrounds were especially awesome), The Maxx, Ran & Stimpy and Mighty Max, which later came up with very cool toys. Everything about the shows was really interesting to investigate and draw.
With time, I started realising how interesting compilations that exist around me were, and I think that's where I started to draw from life. Eventually, I bought a sketchbook and drew whatever I could – specific human postures, stuff around the house, and many other things. But I still have have warm memories of pop culture from the 90s and early 2000s.
When did you start inclining towards design/illustration?
I think it was somewhere around middle school that I heard about illustration, and that you could actually get paid for drawing pictures. I took comfort in the idea that I had found what I wanted to do, and all I had to do was keep drawing. Things were obviously a bit more complicated than that, but I'm glad I still have that notion. It's a tough job, both mentally and physically, to keep drawing and barely see any progress. My goal was to get better at this, because the thought of doing something I didn't like was quite scary.
In Israel, you have to contribute three years to the military at the age of 18. So when I joined the army in 2009, it was a hurdle. To continue drawing while I worked all day in strange places, I had to get creative and come up with ideas like hiding my sketchbook in my vest, drawing late at night, etc. It probably sounds romantic now, but it wasn't very fun then.
How was your experience at Shenkar College? 
The experience at Shenkar College was interesting to say the least. It was a four year bootcamp that definitely shaped me into becoming what I am today. The most important thing I learned there is the attitude towards the profession as well as other designers. I learned about being kind to people, staying humble when you ace a task or even when you fail it, knowing when to help a mate out, and not be ashamed to admit when you're struggling – these skills were not only useful in class but also as a human being.
I also learned the importance of hierarchy in illustration and knowing how to alternate your message in layers. What the viewer will see and understand first and last is among the most important tools I like to play with.
How were your initial years after you passed out of college? Did you instantly know you wanted to work independently?
I always knew I wanted to be independent. I think most illustrators do, because when you grow up in a room drawing most of your days away, it does something to your habits as a creator. Moreover, the job itself tends to be quite varied and you never know what the next day is going to be like. That, for me, means freedom but like with everything good in life, it comes with a price – warning: big words ahead – financial uncertainty, strange schedules and self-discipline (laughs).
After graduation, I didn't have a lot of problem getting work because I took up almost anything I got offered. Looking back, it was a good idea because now I know more clearly what I like and what I don't.
How does the city of Tel Aviv inspire you personally and your work? 
Moving to Tel Aviv was a whole new experience for me because it was so different from the city I grew up in. The wide fields and long neighborhood got replaced with dense buildings and people basically living on top of each other. I currently live in a medium-sized apartment with my girlfriend, Roni, and we have a medium size dog named Emil.
Initially, I was indifferent about the whole urban life but slowly I started to notice its beauty. I really like small human situations, and Tel Aviv has many of them. For example, a few days ago I was in a meeting at a coffee shop, and there was a mother and a small child sitting right across us. The mother ordered a glass of orange juice for the kid and when the waitress brought it to the table, she forgot the straw. As the child was very eager to drink the juice, the mother placed it carefully under his mouth while trying to reach another empty table behind her for a clean straw. It was a Hitchcock-like suspense situation, watching the kid almost dropping the cup while the mother stretched her hand to the other table hoping she'll get the straw before any accident occurs. The whole thing lasted only for about three seconds but finally, the kid got his straw all safe and sound. It's kind of a long story but it gets my point across.
In Israel, you have to contribute three years to the military at the age of 18. So when I joined the army in 2009, it was a hurdle. To continue drawing while I worked all day in strange places, I had to become creative and come up with ideas like hiding my sketchbook in my vest, drawing late at night, etc. It probably sounds romantic now, but it wasn't very fun then.
How important are personal projects for you, and how do you balance between personal and commercial work?
That's a tough one. I definitely need to have a clearer balance when it comes to personal and commercial work because I tend to give in to whatever interests me the most. It's not a wise decision, but I believe the more fun you have with a work, the better it will turn out eventually.
Personal projects are very important to me and currently I'm part of a collective of comics called 'Humdrum'. We're working on our fourth comic book together, mainly for festivals and for fun. I also designed some cool animations for director Uri Lotan that will come out next year. I am also working on a personal comic, that's taking ages to complete. Plus, I still doodle and sketch.
Could you pick your one personal project and take us through its making – from the concept to execution? 
'The Shesh-Besh Gang' was a story I drew for the last Humdrum collective book. It's a simple, fun story about neighborhood parents that meet up daily and settle their conflicts over a match of Backgammon. The story also compares the gaming style of each player to his personality. The gang I chose to describe are my father's real friends in his neighborhood.  I remember, while growing up, everyone had a unique nickname and a specific part in the group. I always thought it was an interesting and funny story to draw.
In terms of the process, I first gather materials or references, write memories, and sketch random thoughts about the story. Then I take pictures of certain objects and locations where they usually sit – I try to gather as much as possible because I know that the details are a big source of honesty in the story, especially when the story doesn't contain any words. I continue with rough sketches to figure if the story even works in a picture format, and only after that, I start the actual illustrations. In this case, I drew them digitally, and since the story talks about the different personalities in the group, I tried to make them different and unique in their own right.
Which has been your most favorite client project so far?
One project that comes to mind is 'Post my words'. It's a series of eight animated illustrations which describe eight stories from different authors. It is about parents who live with disabilities, whether it's their own or of someone important in their lives. I immediately fell in love with the stories mainly because of the way they have been written. All of them had a positive outlook and some of them even had a unique humorous take. So I took one small detail that made me laugh or was quite interesting and illustrated it.
Looking back, the combination of the freshness of the work and the heavy narrative of the stories left a sweet taste in my mouth.
What draws you towards creating comics particularly?
For me, a comic is like an illustration but on a timeline, and the only rule is to make sure the message is clear and understandable. The message doesn't even have to be a verbal one, it can be a strong feeling or a notion. That's what makes me gravitate towards it the most – it's an elaborate tool of telling slightly more complicated stories or maybe just making the experience a bit longer.
I experimented a lot with comics when I was at school and instantly fell in love with it. For my final project at Shenkar, I decided to make a wordless comic named 'Battle Ration' about my travels from my house to the army base every week. The book eventually got published by the French publication, Warum.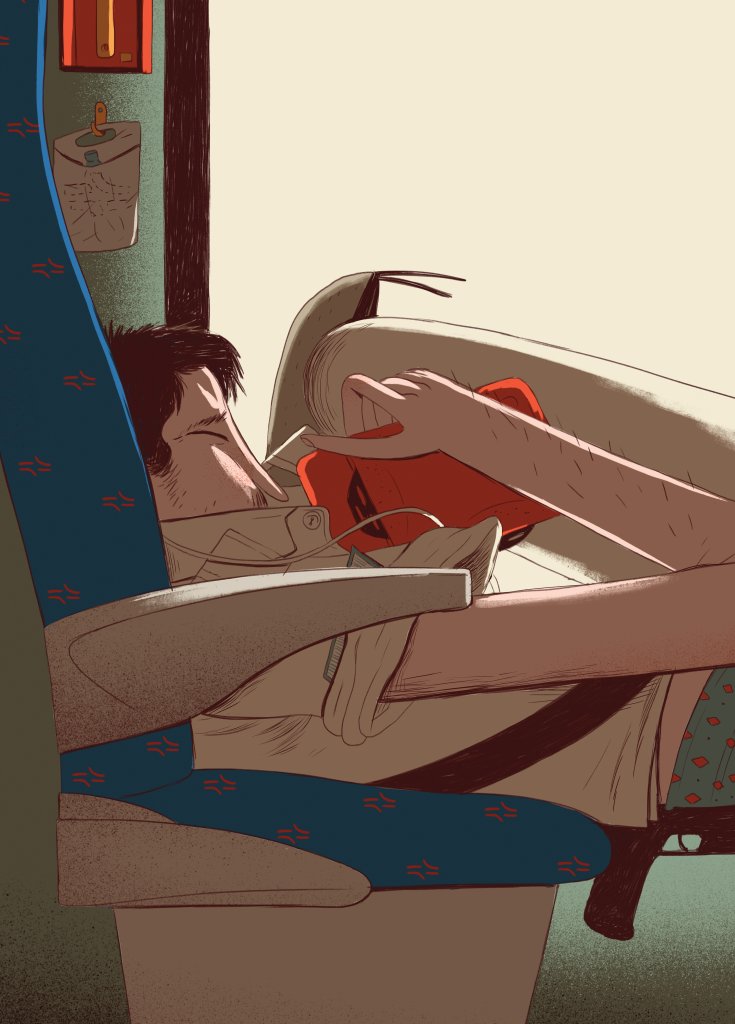 In terms of the process, I first gather materials or references, write memories, and sketch random thoughts about the story. Then I take pictures of certain objects and locations where they usually sit – I try to gather as much as possible because I know that the details are a big source of honesty in the story, especially when the story doesn't contain any words.
Would you say you have a signature style in your work? If yes, how would you describe it to someone who has never seen your work?
If I could describe my style in a few words, it would be expressive, culture-based and documentary. I like taking information from life and applying a stylistic tone to it, reordering objects, and telling the same story in a different setting.
However, I would like to explore other worlds, and as I said before – every day is different. Moreover, as much as I love drawing, illustration is disposable for me. My desk and wall barely have any illustrations. I get tired of them after a certain time. Design, by definition, is made to tell a specific idea and the more calibrated it is with itself, the better. It's different from art where its whole essence is being open to interpretation and where every look should be different. This state of mind led me to this style and to enjoy the process.
What are the things in music/books/television/films etc. that really inspire you?
I'm always in search of cool stories. I think most people can relate to this – people like stories!
It all depends on how you tell a story, and usually the alternative culture presents a story in the most intriguing way. I like the fact that sometimes you need to be patient in order to enjoy something and it feels more rewarding afterwards.
Though the times are changing. I think it's cool to see a different take on something familiar and you actually see more of that today, especially with mediums like Netflix and how fluid content has become in the last few years. You see more indie and experimental shows like Love, Death & Robots, strange documentaries on practically everything, even the Coen brothers took a chance with an interesting format (The Ballad of Buster Scruggs).
Any artists around the world whose work you look upto?
One of the fun things I like to do is to search for new talents who can refresh the norm, but having said that, I will always have respect for the great artists that have shaped me into who I am today. To name a few across eras: Assaf Hanuka, Jorge González, David Polonski, Luke Pearson, Miroslav Sasek, Ori Toor, Vincent Mahe and many more.
How do you feel about social media in context to your work? Has it made life easier or more difficult as an artist, or both?
In my opinion, social media is awesome for artists. You get an easier access to art, and it's a great way to reach new clients. It also has a lot of flaws though which demotivate me from using social media on a daily basis. With bigger platforms like Facebook, your work reaches a tiny portion of your friend list unless you know the exact time to post, and with Instagram, you can't use links and because it is on your phone, you need to be creative on how you post your work as comics usually tend to be long and illustrations can be large in size.
I'm not big on sharing everyday activities, but I know that social media presence is important because that's how people are sharing and communicating today. I'm trying to make my presence a bit more professional.
**
For the first time ever, we also opened up the (Instagram) floor for our readers to ask Ovadia a few questions, and as promised, they are now a part of our interview:
Where do you draw the line between your own artistic calling and what the client wants when working on commercial projects?
As a designer, I believe that every idea, no matter how silly or cliché, can work and be wonderful. It is only a matter of persistence. Whether it is a commercial project or a personal one, it always feels like something is standing in the way of great work – sometimes, it's the client and sometimes, just your own mind. I'm convinced that everything in this world has an honest core to it which can turn into a cool work.
The tricky part is to realize that you require more dedication, especially when the initial idea is overused. For example, if the client wants a clichéd sunset with a flock of seagulls above it because he thinks it would be a good shampoo poster, it's up to you to find an original twist to make this image clever and better. I usually advise the client about what will work best, but as a principle, everything is possible.
Question submitted by @sekhrajka_r. 
What does a typical work day look like for you?
I actively try to hold on to a routine as much as I can, especially because I work from home. The occasional deadline can destroy it, but on most days, I wake up around 8-9 AM (depending on my dog), make a warm decaf Chicoree drink, sketch for a little bit, and then start working. I like using the earliest time of the day for the toughest tasks, which is usually the "finding the idea" phase. Like most people today, I too listen to podcasts on a daily basis. Nothing fancy or super niche, but if I could recommend a recent great one I found, it would be 'Everything is Alive'. It's a non-scripted interview with a still object usually from everyday life, and one quote I can't forget is from when Ana – the Elevator asked the interviewer "What, there is no weight limit outside?"
I try to stop working around 6-7 pm because I aim towards a balanced work day, so I don't get obsessive with unsolved ideas or unhealthy habits like scrambling in my sketchbook at 2 am. In the evenings and during the weekends, I love meeting friends, going on long walks with my girlfriend and dog, cooking, and playing tons of video games.
Question submitted by @ashitawaitforitshah.
Who in the industry is your biggest inspiration?
If I don't consider the classics, mentioned earlier in the main interview, one of my most beloved creators is Tom Gauld. He's definitely my go-to when I want to laugh and feel good about myself and I (mostly) get his jokes.
Question submitted by @sekhrajka_r.
Do you recommend formal training when it comes to designing or one should just learn on the go?
It's up for discussion, but I think that since formal education tends to stretch for a long period, it gives you enough time to put yourself out there to be criticized, to be a part of a learning community, to reflect on yourself. In a classroom, you're the center instead of the client. This process is much more difficult when you need to balance professional work with it. I believe in sterile practice, and there is a good reason why when we adopt a puppy, we first teach him to walk inside the house before we take him out to noisy streets.
But is it possible to learn on the go and succeed? Absolutely! But I think that while you'll be good on your own, you'll get even better when you get this sterile time to reflect. The diploma in itself doesn't really matter that much, only the time.
Question submitted by @snehahahaha. 
What are the artists/websites you follow for inspiration/ideation?
Well, today with social media, it's very versatile. Here are some pages and artists I love: Colossal, Juxtapoz, Design Boom, Alex Farfuri, Jun Cen, viaasurface, Wilfrid Wood, Et si rien d'autre n'avait d'importance, and, facebook.com/profile.php?id=100009834552107.
And of course, the local museum.
Question submitted by @seth_kanishk.
How do you get inspiration and are you always up for experimenting?
Inspiration is complicated. While witnessing a nice illustration or visiting a cool art show is great, but for me, inspiration isn't a notion or a single idea, it's a state of mind. I see a clear line between my mood and inspiration. Contentment from life is what, at the end of the day, will lead to a head filled with ideas and motivation. Realizing this fact about myself has only motivated me to stay positive through life and be as honest as I possibly can. This always makes me feel lighter, especially when I'm around my loved ones.
I'm not usually up for experimenting, even though trying new things once in a while is a fun exercise. I take more enjoyment from investigating what already exists. I think it's a personality thing. Some people can't stay stationary or have a defined style, but I'm interested – to quote the great Morpheus – on seeing how deep the rabbit hole goes.
Question submitted by @udita.bhatt. 
All the images are works by Ovadia Benishu. ©
Ovadia's photographs are provided by him. ©