Whether it is the striking visual of Jeff Koons' Lady Gaga sculpture with the gazing ball on ARTPOP, or the long time collaboration between Radiohead and Stanley Donwood that has produced iconic album artworks like The Bends, Kid A and Amnesiac — musicians and visual artists have been collaborating for a long time. However, album artworks are just one layer of the relationship between visual arts and music. For years now, visual artists and musicians have been bending boundaries. Artists Jackson Pollock and Romare Bearden have repeatedly cited Jazz music as an influence in their work, and musicians like David Bowie and Freddie Mercury are known to have moonlighted as visual artists.
Singer and songwriter Mika, who has also exhibited his paintings at galleries, said in an interview a while ago, "When I write songs, I draw sketches to go with them. It's a visual world to step into and to have fun and to play with." He echoes the thoughts of many musicians who have not only used art as a cathartic medium, but have also deeply engaged with visual arts to explore their relationship with music outside its existing form. In fact, dropping to the basics, visual art and music continue to share terminology with words like repetition, form, line, rhythm, texture and balance crossing paths. Wassily Kandinsky is one of the most well-known examples in the world of painters who has heavily borrowed from music. He was so intrigued by the symphony between visuals and sound that he often named his paintings with musical terms like Compositions, Impressions and Improvisations.
We wanted to understand how some of the visual artists relate to music today, and what role it plays in their work and life. We spoke to eight creatives from Asia and Middle East to explore the ubiquitous yet uncanny relationship between music and visual arts in a contemporary context.
——
Samya Arif
Visual Artist from Pakistan
There isn't one particular kind of music I listen to. I just want to listen to good music, something that's original and sounds good to my ears. My palette can vary from hip-hop to techno to lo-fi pop and so forth. My boyfriend once said that anyone could find the music they like in my iTunes; I was quite pleased to hear that. So I'm really open to most kinds of music, and I'm constantly on the lookout to discover new musicians and genres. That said, of course one is prone to preferences, something that speaks to us more than the rest.
I've always listened to a lot of rock music, and in that I preferred grunge, mainly Nirvana, during my teenage angst years and then a lot of classic, alternative and indie rock like Led Zeppelin, Red Hot Chilli Peppers, Incubus and Tame Impala. At the risk of sounding cliche, I would say my music journey bloomed when I met my boyfriend, Talha Asim Wynne, in university. I didn't know then that he was a walking encyclopedia of music and a budding musician at the time. He was interested in all sorts of music that sounded very new and weird to me then, and that obviously piqued my interest. One of the genres he introduced me to was shoe-gaze, which sounded like a psychedelic mesh of noisy guitars. My Bloody Valentine is one of the bands that embody this genre and they've created some of the most beautiful music I've heard in my life. A lot of the art and illustrations I create are inspired by the psychedelic-ness of shoe-gaze music and the connection I feel with it.
As for ambiences or a setting for music, I think that really depends on the genre of music being listened to. Here in Pakistan, we're pretty much starved for concerts and gigs, so most of the listening happens at home or at a friend's house, and if we're lucky, at a decent gig once in a long while. But luckily, I ended up getting majorly educated about ambiences and music in Berlin, and ended up falling hard in love with electronic music, a lot of it techno, on my first clubbing experience. There are not a lot of places like a club which are solely built for a music and dance experience, the thrill of losing yourself in there to throes of music and sounds until your body is emitting the music is actually very fulfilling for the soul.
While working I usually play my recently downloaded stuff, or play SoundCloud. My first art collaboration with music happened when Talha, who was then starting to dabble with electronic music, asked me to share some of my artwork for his first album as Tollcrane. At that point, I didn't think much of it and just shared some random drawings I had made. He followed that with another album for which I did some artwork again; this time the album art was noticed by some of our musician friends from Karachi's underground music scene, and soon I was asked by Pakistan's favorite indie band Sikandar ka Mandar, who are also friends, to illustrate their cover. Their album art got me a lot of appreciation in wider circles. People found it humorous and eye-catching, and that was the beginning of my art collaborations with music.
I've been very lucky to be surrounded by a lot of talented and brilliant musician friends, who have given me opportunities to express what their music has made me feel. Each album art I've created has been a complete labor of love. To immerse yourself in music and come out with a visual language to convey it has been a fantastical experience each time. Almost all the musicians I've worked with have been open to me experimenting with the artworks and taking out my own meaning from their music. I've also gotten to collaborate with my friend, photographer Humayun M, on Veka's Cover and two of Slowspin's album covers, both of which were very hands on experimental artworks.
One of the album covers I've most enjoyed working on was Tollcrane's Trips Alone, released last year. It was my third album cover for him and this time I was given complete leeway to create what I wanted. The album was created after we both visited Berlin for the first time, and there was a certain influence of that in there. In fact one of the longer ambient tracks was created in Berlin itself, so it made sense to have an essence of the city in the art. I asked Tollcrane to share some of the photos he had taken while he was there, and amalgamated those with a photo I had taken in Karachi. The music has a somewhat dark and mysterious vibe to it with echoes of dancey and ambient bits, and I wanted to reflect that in the design. The album was also released as limited edition cassettes, so that was a lot of fun to design.
——
Sameer Kulavoor
Visual artist based in India and founder, Bombay Duck Designs
I listen to a really wide range of music. But if I have to name some bands, I'd say Pearl Jam, Radiohead, Tame Impala, basically the alternative genre. Recently, I've been listening to hip hop as well, so it's quite eclectic. Sometimes I also tend to go back to 90s Indie pop since that was a completely different world with artists like Lucky Ali, Mohit Chauhan, Silk Route, Colonial Cousins, etc. Music takes me to a certain place, it can be time, location, anything. I look at it through that lens.
I particularly like the bass guitar and what it does to music. In terms of favorite genre, it entirely depends on my mood. For example, even within Pearl Jam there are songs that are extremely grungy, almost bordering on metal and then there are some songs which are for the soul. I usually tend to open iTunes or Apple Music and type out a song, without even consciously knowing that I want to listen to that kind of music. Sometimes in the studio, post-lunch (after we have had a lot of rice), I play metal to wake everyone up! In the evenings, my sister (Zeenat Kulavoor) plays Lucky Ali or anyone else actually. I'm not an elitist to any kind of music. Each song brings up a completely different world for me.
When I had set up my studio, I used to do a lot of motion graphics work for channels like MTV, Channel V, and show packaging and titles for TV channels, so I just had to keep a track of the new sounds that people were listening to. I was quite connected with the indie scene here. The bands that played in the city like Pentagram and Zero definitely had an influence on my work but the idea of inspiration itself is quite intangible. I actually created two music videos for Pentagram. For 'Lovedrug Climbdown', I spent a lot of time on the streets and used a lot of action loops. This was in 2010, so Boomerang didn't exist then. The things I picked up were repeated motions like the pav bhaji (a local food dish) guy smashing tomatoes on the pan, the movement of crows, flocking pigeons rushing towards the grains on the street, etc. If you look at Boomerang videos too, they're quite musical, like poetry and sound.
I also used to do album artworks. I worked on the album art for Zero's Procrastination and for the band Something Relevant. They're not together anymore. Actually, all the bands I drew for have disbanded. Recently, I worked on the cover art for Ankur Tiwari's album Side A Side B. He has a really personal tone to all his music, so it was a really interesting project. I suggested a sitting to make two minimal portraits – the left side of his face and the right side. In fact, all the music related projects I've worked on have come with open briefs like this. I usually go back with ideas and then it's about connecting and seeing how you put things together. It's very organic, like a collaboration.
Coming to NH7 Weekender, Vijay Nair (founder) from OML and I actually go way back; we studied together at one point. So when he contacted me about a festival like this, the idea sounded very exciting. I couldn't contribute to the first year because I was caught up with other commitments, but from 2011, I've been on-board every year. We've done decor, publication and installation design for the festival. Last year, we worked on a huge lined cityscape in black and white for the backdrop. It was interspersed with random things like a dinosaur, smiley and hands popping. More than having a direct connection to music, these images are about what someone who enjoys music will relate to. If I was drawing a parallel, I'd say that the rhythms and harmonies of the music connect with the rhythm of the lines in the illustration. It could have been a subconscious influence for us, but for a music lover, it might probably be instinctual to draw that connection. We also worked on The Periphery Art Project last year.
Here in Pakistan, we're pretty much starved for concerts and gigs, so most of the listening happens at home or at a friend's house, and if we're lucky, at a decent gig once in a long while. But luckily, I ended up getting majorly educated about ambiences and music in Berlin, and ended up falling hard in love with electronic music, a lot of it techno, on my first clubbing experience.

– Samya Arif
——
Yael Bronner Rubin
South Africa born Israeli artist based in Hong Kong
I like music that I can dance to or something that has a spiritual/traditional nature. The dance category is quite large, ranging from western pop to Chinese folk dance, but the rest are more random, mainly from Israel, India and Mali. I used to see ladies dancing in the park in Hong Kong and I always wanted to join them. One day, I actually joined them and that is how I started listening to Chinese folk dance music. The cross-culture and cross-era mix is what draws me to it. It is traditional and pop at the same time. One second you're in a Chinese disco, and the next you're on top of a misty mountain. Lately, I've also been practicing calligraphy and the phrases that pop into my head are often from songs like 'Let's not talk too much'.
One of my projects 'Daily Offering' is a photographic installation that raises questions about the ritualistic nature of the artistic practice while exploring the issues of cultural identity. I engaged in a daily ritual of creation, taking photographs to document the nightly shifts in perception. After I found Amadou and Miriam's album 'Dimanche à Bamako', it became a part of my ritual. The music lifted and carried me to new places. The exhibition for this series also hosted African drum workshops and performances as a celebration of these creative rituals, as a chance to connect with people and art through music.
——
Shiho Kito
Independent curator and photographer from Japan
When I was a little girl, I would listen to my father's jazz collection. Since both my parents were in the education industry, my father decided to take childcare leave for me after my mother completed her maternity leave and went back to teaching. Considering that being a workaholic was pretty normal in Japan at that time (in the 80's), I will always be grateful to them for taking shared parenting leaves. My father's music appreciation classes began at a very early stage of my life. He had a fantastic vinyl record collection of jazz, classic, and rock – from Art Blakey, Bud Powell, John Coltrane, Stan Getz to Mozart, Erik Satie and The Rolling Stones. My mother added her collection of The Beatles to the mix. Those albums and their jacket designs continue to be enthralling.
There is a connection between Ruby Tuesday (1967) by The Rolling Stones and my project Walls (2010 – 2012). I was in Ahmedabad, Gujarat from 2010 – 2012, on and off working on my second photographic project called Walls. It was initially inspired by the old walls in the Old City of Ahmedabad, its bloodshed, and the history of communal violence. It comprises of black and white portraits that were made using an old-style large format camera and 4×5 inch negative plates. In the series of portraits, most of the sitters were people I met in the city. While working for Walls, my primary question was to understand how different we were. I used my practice as a way to understand whether there were any psychological barriers between the sitters and the photographer (myself), given our varied social upbringing, faith and religion.
One of the things that always made me feel foreign and unfamiliar (but not uncomfortable) was encountering people's religious sentiments in India. Since I was brought up in Japan, I don't follow any specific religion, and it is quite common in our daily lives there to not have a religious commitment. There is the worship of nature and ancestry, regarded as indigenous faith or philosophy – Shinto (Way of God's) that we would not particularly abide by. Secularism and polytheism are one common thread between Indian and Japanese societies, however, people in India seem to embrace the idea of faith and religion much closer to their lives than Japanese people do.
Photographing people in Ahmedabad was a way for me to try and understand them by including their similarities and differences through conversations on religion. It also became a one-off engagement for the sitters and me for picture-making. Gradually, my initial curiosity about people's differences, their own religion and faith brought some unique findings about each sitter, leaving me amazed at how we're all so unique and how we are going to change as time goes by.
Their portraits sort of crystallized those shared moments, which were fragile, ephemeral, yet intense. Every time I look back at each portrait and the sitter's pensive profile, I am filled with a feeling of attachment to them for kindly sharing their moments and revealing parts of their personalities to me. This work reminds me of lines from that song I've been listening to since I was a child.
Goodbye Ruby Tuesday / Who could hang a name on you? /
When you change with every new day / Still I'm gonna miss you /
——
Ayappa KM
India based ad film director and co-founder, Early Man Film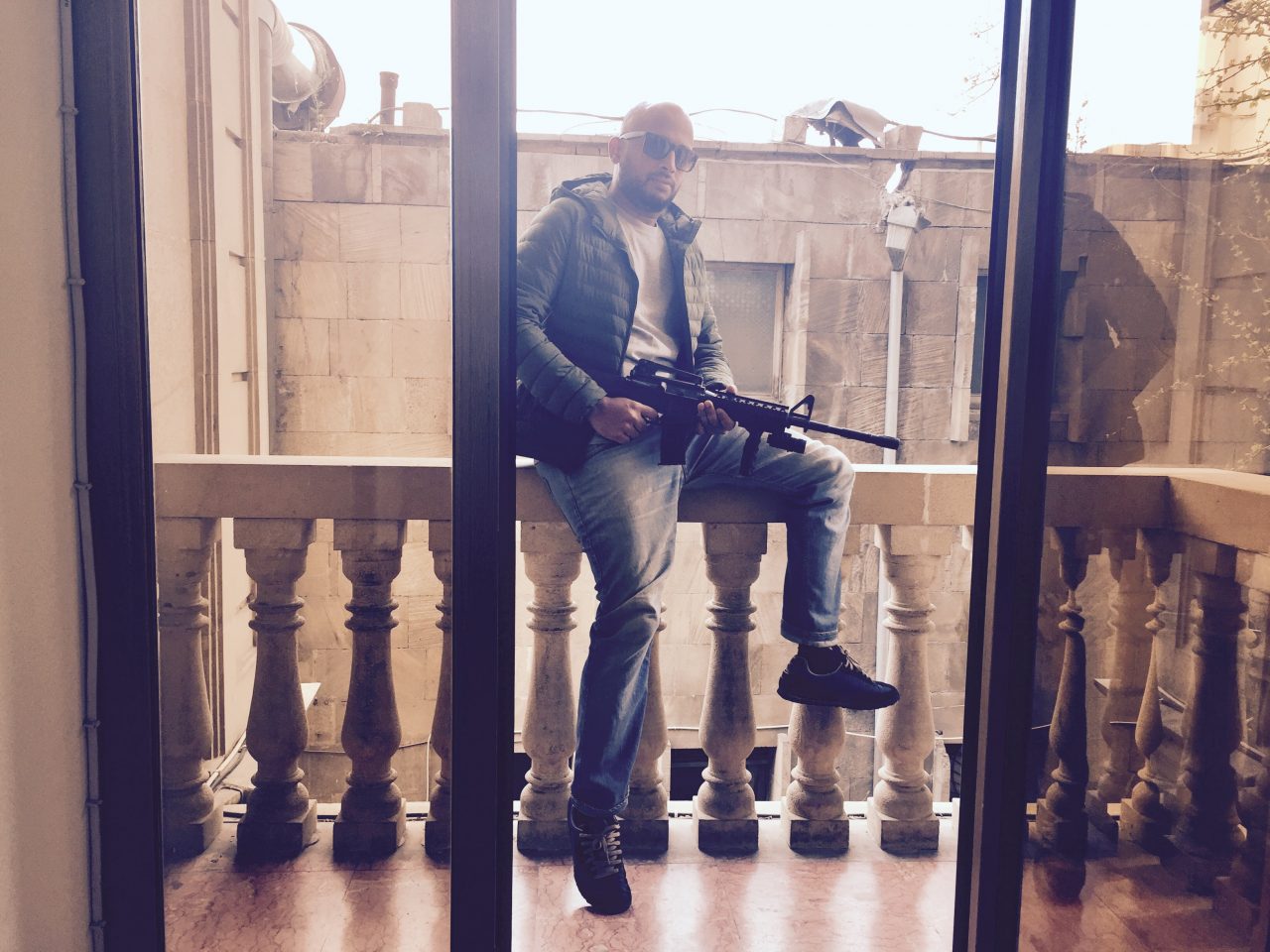 I'm constantly listening to music, while I'm working, driving or chilling. Even a postbox seems deep if there's music playing in the background. If the music stops when I'm at a party, I panic, as I prefer music over conversations. I listen to all kinds of music; the songs keep changing with mood and genres by age. Right now, what I enjoy most are down tempo electronic and world music.
I remember being mesmerized by 'outer space sounds' from a Kraftwerk cassette that my father owned many years ago. Since then, I've been an electronic music fan. It's a constantly evolving genre and the ways one can manipulate those sounds are far greater than the more classic genres. Of course, this also spawns a few DJ Bhushans, but you've got to have your internal filter on.
World music is a more recent interest for me. When I travel, I keep a track of songs I hear. I like listening to them later so they remind me of that feeling or place. It gives me a deeper understanding of the place along with the kind of connection that Lonely Planet never will. Also, world music is a great way to make people leave your house.
Music is very crucial for me when I work. I like to think in music as it helps me understand the film on a cinematic level. In fact, the first thing I do with a script is listen to different songs and find one that suits the mood best. The film we did for Urrza, an energy drink, was about the last man standing at a party. The track dictated the creeping camera movement and the pacing of the edit. Music really propels the film, giving it a sense of mystery and anticipation.
Then there's a film we made for a wires company where an electrician at the stock exchange gets electrocuted, and chaos ensues at Dalal Street and Co. So we took audio bytes from bankers and industrialists expressing anguish and mashed it into a pounding trap beat. I thought it was really funny, but the client didn't agree and bombed it.
——
Homayra Adiba
Documentary photographer from Bangladesh
I would say I am very old school when it comes to music. My favorite kind of music would be Bengali Folk, especially Baul songs written by Lalon Shain based on his philosophy of life. I tend to listen a lot of old Bengali and Hindi music that I grew up with. Pink Floyd, Radiohead, Jim Morrison, Leonard Cohen are also regulars in my playlist. If I meet a new person from a different country, I always look forward to their music and films. To me, music seems to be the only form of art that anyone can connect to from anywhere in the world. It's spiritual, meditative and energetic. It has the power to channel us in many ways.
While working – whether taking photographs or editing on my computer or writing a poem – I do not turn any music on. I tend to lose myself in the music, so I try not to listen while working. Besides, I spend a lot of time listening to music otherwise, understanding its language and blending it with images, which I consider a part of my work too.
I think more than music influencing my photography, practicing photography has influenced my taste in music. I have been listening to music all my life but since I started photographing, I have noticed myself becoming more conscious about listening to music, nature, people and silence. My taste for music too has become more precise.
Here is an edit of my ongoing series named Home, which I started in late 2013. I started taking pictures of my father when he had his open heart surgery, with the fear of losing him. I grew up with the stories about my parents' love and how they ran away to get married, but somehow, I never really felt the love and always kept wondering why they were still together. While doing this work, I slowly realized that they are growing apart. This work recently took a turn when we moved to the USA from Bangladesh. The idea of being at home changed along with a lot of things in life. In this edit however, there are only pictures from back home. I would never say that this is my photo project as it is a piece of my life, my projection of love, my realizations, and my home. The name Home however hasn't come from the idea of working on my home; my father actually calls me 'Home', a shorter version of the name Homayra.
More than having a direct connection to music, these images are about what someone who enjoys music will relate to. If I was drawing a parallel, I'd say that the rhythms and harmonies of the music connect with the rhythm of the lines in the illustration.

– Sameer Kulavoor
——
Anoop K Bhat
Architect and illustrator from India
I listen to a lot of heavily-distorted, guitar-based music. That, I believe, covers a lot of ground without having to mention genres. That said, my preferences have always been with punk, heavy metal and most of their sub-genres. I grew up in a house where everyone loved music – lots of Kishore Kumar, Mohd. Rafi, Mukesh, a lot of early 80s hard rock and pop music, some Indian classical, and some ghazals. I wasn't so passionate about it or anything – it was just there.
I think it was only when I listened to Iron Maiden in my 10th standard that I went absolutely nuts. I hadn't heard anything quite like it and the sounds, singing, and storytelling really resonated with me. From there on, it was a serious obsession – tracking down influences, looking for references, reading through booklets looking for recommendations, reading interviews and watching live shows. Of course, we had the internet to make things easier. I can't quite describe the feeling, but the fantastical larger-than-life aspect to the music along with the storytelling really drew me to it. And the need for heavier music kept building and led me to the music I listen to today – genres like harsh-noise, doom, death, powerviolence, grindcore and scramz. Things have changed a bit. I don't seek the same things from the music that I listen to today as I did when I discovered it. But if I have to pinpoint, I think it is conviction that I'm looking for. It could be anything – if it seems honest and resonates with me, I will listen to it.
For me, listening to music isn't always a background thing. In fact, if there's music I'm really looking forward to, I make sure I sit down, play it loud, and listen. At work, you'll always find me wearing a pair of headphones and at home, I'll have it blast through my speakers; let's just say that I'm always listening to something or the other. I pretty much listen to everything I want to listen to while I'm working or drawing but I have a sweet spot for kraut bands like Can, Tangerine Dream, Neu!.
One of the first things I got interested in right after the music was the beautiful relationship between art and music, their inter-dependence and the sub-cultures they've spawned together. I just wanted to be a part of it somehow and contribute in whatever little way I could. That's basically why I do what I do. I don't know about architecture, but music definitely influences my illustration work. Creating illustrations for heavy metal and punk bands, most of the my work heavily borrows from the band's music. There isn't a hard and fast rule as such but it definitely impacts the work a lot and in different ways. Right from something like the Nadja poster which had more to do with the vibe, the atmosphere and the place that the music took me to, to something very tongue and cheek like the Conan poster. There's also this new direction I'm exploring where I just head to the drawing board while the music is playing and try and capture that vibe with lines.
That said, I don't think it stops there, there is definitely the history that is a big part of this. I've been in this for about ten years now. The music itself has been around for about four to five decades. In my little time, I have read, seen and listened to so much. I'm sure some of it creeps into my work without my knowledge. While there is definitely a conscious attempt at interpreting music, there's also a subconscious undertone which probably isn't all that discernable.
I think the cover I drew for Diarchy's debut album would be a right fit for this. I loved how organic and smooth the entire process was. I had seen them live at Indie March alongside Colour Haze sometime in 2016. Later that year, I happened to recommend the band to a friend for his upcoming gig. Next thing I know, I was working with the band to produce the art for their full-length debut, which at that point was completely recorded in its final mixing stage.
The idea for the artwork came from Rorschach – one of the first songs I'd heard by the band at the time. That hypnotic, snakey guitar melody in the beginning, getting 'attacked' by a heavy, stomping riff a few minutes into the song brought to mind images from David Attenborough's Planet Earth II – the racy snakes of Galapagos Island from the first episode and the Alpine golden eagles from the second episode. It seemed to have a story, so I put the two together, each creature representing a part of the song. The riff won, so naturally the eagle had to look in charge. It was only during the second meeting with the band that I proposed making this eagle a twin-headed one, just to tie in with the band name. That's pretty much how it came about. Once I started working on the final drawing, I explored various textures and techniques that further gave off the vibe the music seemed to be emanating.
I think more than music influencing my photography, practicing photography has influenced my taste in music. I have been listening to music all my life but since I started photographing, I have noticed myself becoming more conscious about listening to music, nature, people and silence. My taste for music too has become more precise.

– Homayra Adiba
——
Sai Selvarajan
USA based Filmmaker and editor from Sri Lanka
I don't really have a favorite genre. I like any music that makes me feel something. I was a teenager in the 90's which happened to be the golden age of Rap and the beginning of Grunge. Both were massive movements in their own right and it was great to be a budding teenager while all this was happening. In college, the Napster revolution hit which exposed me to a plethora of underground and fringe artists whom I might never have had the opportunity of listening to. During college, I also met people who liked some of the big national bands I liked and they turned me towards some of the smaller indie bands they liked, so it opened up a whole new world for me. I started listening to all kinds of music and genres. In film school we couldn't use copyrighted music to score our films, so I formed a band with a couple of friends to create music for my students films like this one. We called ourselves Warmth Through Distance and I played the drums.
Growing up with Sri Lankan parents, I was exposed to a lot of Indian classical music. M. S. Subbulakshmi got quite a bit of air play in our house. When I'm working, I prefer playing records that are good from start to finish. I like to just hit play and walk away. I gravitate towards anything by Neil Young, Mogwai, and J.Dilla.
Music is a huge part of my films. I see it as a character in the film and it needs to move the story forward. With my film 'Sugarless Tea', I needed one piece of music that twisted and changed as the story unfolded. The story spanned decades and I needed the music to feel like it was part of the journey. I picked a Curtis Heath piece because he's a master of telling a story through music. He understands the task and he always has ideas on how to get there. Because 'Sugarless Tea' was a story set in NYC and India, I didn't want the score to have an Indian Classical feel. I wanted it to live on its own without really being tied to a genre. What Curtis turned in was so spot on, I was blown away. I remember getting it, adding it to my rough cut, and feeling goose bumps.
Sugarless Tea from Sai Selvarajan on Vimeo.
With my next film "Audible Static", I had a different approach. The film is set in the mid 90's and the lead character, Thaddeus, is young teen who tinkers with tapes and records. I wanted the score to feel like it came from the 90's and have this tactile nature to it. I picked Joey Kendall because I've always loved his quirky and eccentric music. There's a scene in the film where two kids are playing a Sega Genesis and I needed Joey to score an 8bit video game music. I always loved the music in Mario 3, so I cited that as a reference along with a lot of early Danger Mouse (Pelican City) stuff as references. Joey came through with a great 8bit track that he made from scratch. I loved what he came up with and it totally fit with the film's unique 90's feel.
Music is very crucial for me when I work. I like to think in music as it helps me understand the film on a cinematic level. In fact, the first thing I do with a script is listen to different songs and find one that suits the mood best.

-Ayappa KM
You can read the rest of the issue three here.
All photographs are provided by respective individuals. ©
Homayra Adiba's photograph is by Debashish Chakrabarty. ©
Anoop K Bhat's photograph is courtesy Creative Mornings Bengaluru. ©
The cover image is a still from the film Audible Static by Sai Selvarajan. ©